Add your review
Review SHEARWATER TERIC COMPUTER
SHEARWATER TERIC COMPUTER
SHEARWATER TERIC COMPUTER
3-5 days
productpage_usp_1_title

productpage_usp_1_text

productpage_usp_2_title

productpage_usp_2_text

productpage_usp_3_title

productpage_usp_3_text

productpage_usp_4_title

productpage_usp_4_text
The Teric has all the features divers have come to love in our computers and more. It is our most compact unit, yet it is also our most feature rich unit. The Teric comes with AMOLED full color display that is very easy to read even in adverse conditions.
The Teric has 4 buttons. We've applied situationally adaptable logic to our menus and buttons making the Teric very intuitive. It is also very configurable. You can configure one of the 4 buttons to give you a single press access to different tools like compass, stopwatch, countdown timer, etc.
It is AI compatible and can monitor up to two pressure transmitters in two different tanks. It has Recreational, Gauge, OC Tech and CC/BO modes with up to 5 Trimix and nitrox gases. But it also has an all new Freediving mode with configurable sampling/ logging rates and improved ascent and descent indicators. There are haptic and audible alarms that can be disabled to prevent annoying other divers in the vicinity.
The Teric uses a wirelessly rechargeable battery and ships with a wireless inductive charger. Add to this the Shearwater Bluetooth communications protocol for downloading logs and updating firmware and you have a fully enclosed unit with reduced flooding risks since the user will never need to open it up to connect a cable or change a battery.
Like the NERD 2, the battery can be replaced at one of our authorized service centers. We expect battery life to be 5 years.
Finally, we've built it up with a robust hardware set with plenty of room for firmware improvements and new features.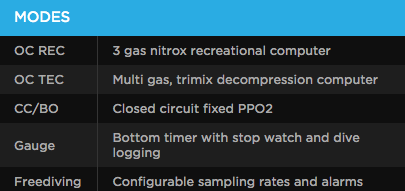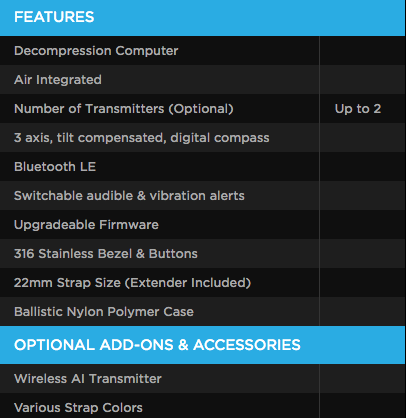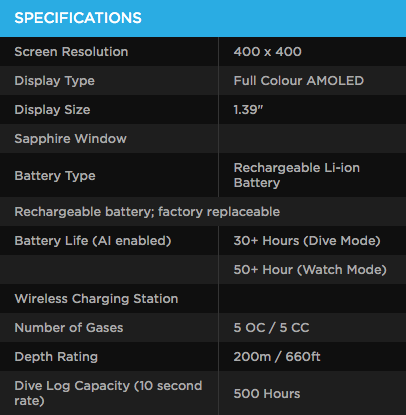 5 stars based on 1 reviews
03 Jul 2018
Michael Benjamin Farr
Just received my new hotness from Dive and Photo! I found a Teric in stock and bought it immediately. They called the next day to let me know they were packing it up and shipping it later that day. I've been playing with this thing for over an hour and it is easy to navigate and setup. This is feature packed and just plain awesome! I downloaded the Shearwater cloud app and the desktop app and then updated the firmware via the bluetooth function. Worked great! I love charging the Teric on a quick charging pad. The floating red compass arrow is the coolest!